The Council of the EU on the Protection of Public Spaces (EU Council, 2021) underlines that:
Recent terrorist attacks against public spaces underline the need to strengthen efforts to enhance the protection of public spaces.
The rise of terrorism triggered by violent extremism is a growing concern especially for places of worship.
Some public spaces and major events such as places of worship, public parks, tourists' sites and others, demand adequate protection due to their nature, vulnerability, social significance and the potential impact of an attack.
Cooperation between LEAs and other stakeholders is key for the preventionof terrorist attacks.
We can distinguish the following types of extremist attackt on sacred objects:
Firearms attacks – Mosque shooting n' attem pted arson (Bayonne- France,2019)/ Great Synagogue (outside) shooting against Jewish security guard and Police officers (Copenhagen, 2015)/ Mosque shooting (Baerum- Oslo, 2019);
Sharp objects attack – Church attack- Priest beheading during mass and hostages (Rouen- France, 2019)/ Stabbings inside the church (Nice- 2020);
Other:
Firearms attack Christchurch mosques (New Zealand, 2019)
* Before this terrorist attack New Zealand had not experienced acts of terror
What is crime prevention and what is it for? The name itself derives from two Latin words: praeventio – to prevent and crimen – crime. If we combine these words, we see that crime prevention is the prevention of crime. This is, of course, a very simple definition. If we want to expand it a little, we can say that:
Crime prevention is all actions aimed at reducing the quantity and quality of crime by reducing opportunities for crime and by influencing potential criminals, or crime prevention is all undertakings by the state and citizens aimed at eliminating crime.
Preventive measures aimed at improving the safety of the faithful should make use of conventional means of protection. Such activity should be based on:
Deterrence measures that help discourage and attacks
Examples include visual signs, guard posts, real or dummy CCTV systems, presence of police vehicles, sufficient lighting and others.
Detection measures allow detection of occurring threat
Examples include risk awareness among staff, human/ dog patrols, alarm systems, CCTV system, metal detectors, explosive detectors, sufficient lighting and others.
Denial/ Delay measures meant for denying or delaying access to certain areas
Examples include fences, barriers, bollards, reinforced doors, padlocks, access control systems and others.
Response measures enable or enhance response after a threat is detected/ has occurred.
Examples include panic buttons, alert systems for staff, worshippers (e.g., mass SMS), evacuation vehicles, fire alarms and extinguishing systems, evacuation plans etc.
Protection measures includes ballistic glass windows, fire resistant doors, security personnel, protection of air vents and aircon external units and others.
Prevention strategies developed in the framework of Community Policing and CPTED (Crime Prevention Through Enviromental Design) can also be helpful in increasing security among religious congregations.
Crime prevention through environmental design (CPTED)- What is it?
multidisciplinary approach which can help deter criminal behavior by influencing the environment;
crime prevention mechanism;
applied during the construction of a site (ideally) or through adjustments to existing facility/ area;
security measures are integrated to the environment of the facility and should be aesthetically pleasing. More details on security by design avaiable at: EC NEWSROOM article "Security by design for the Protection of Public Spaces"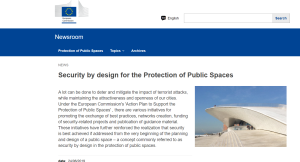 Community Policing. What is it?
Community Policing- LEAs Community engagement for building trust and encouraging the community to actively participate in the protection of public spaces e.g. by reporting suspicious behavior
Cooperation and trust- Exchange of information between Religious stakeholders and LEAs
The EU's response to terrorism
Terrorism threatens our security, the values of our democratic societies and the rights and freedoms of European citizens. Fighting terrorism is a top priority for the EU and its member states, as well as for its international partners.
Why fighting terrorism is a priority for the EU
Following a series of attacks since 2015, the European Union has adopted various measures to stop terrorism.
Although responsibility for combating crime and safeguarding security primarily lies with the member states, recent years' terrorist attacks have shown that this is also a common responsibility which they must shoulder together. The EU contributes to the protection of its citizens by acting as the main forum for cooperation and coordination among member states.
In 2015, EU leaders issued a joint statement to guide the work of the EU and its member states. It called for specific measures, focusing on three areas:
ensuring the security of citizens
preventing radicalisation and safeguarding values
cooperating with international partners.
https://www.consilium.europa.eu/en/policies/fight-against-terrorism/
Extremism (Latin extremus - extreme)
Adherence to extreme views, the use of extreme, ultimate means to achieve a political, religious, economic or ideological goal. In the extreme form not excluding the use of extreme forms of pressure – violence, terror, terrorism, putsch.
Fundamentalism
The rigorous adherence to principles and norms set by a particular religion (religious fundamentalism), political doctrine (political fundamentalism), or ideology (e.g., "scientific worldview" fundamentalism in communism.
Public Spaces
Public space are all places publicly owned or of public use, accessible and enjoyable by all for free and without profit motive (UN, 2016).
Radicalism (from Latin radix - root)
A way of thinking or acting, characterized by uncompromising views, goals and means of action.
Soft Targets
A person or thing that is relatively unprotected or vulnerable, especially to military or terrorist attack" (Oxford University Press, 2002).
The term "soft targets" is typically adopted to indicate vulnerable places that may be selected by terrorists in their effort to maximize casualties, thus inflicting fear to the population and attaining media coverage (JRC, 2018).
Terrorism (from Latin: terror, -oris "fear, terror, horror")
Variously motivated, usually ideologically, planned and organized criminal actions of individuals or groups, in order to force the state authorities and society to specific behaviors and services, often violating the welfare of the public; these actions are carried out with all ruthlessness, using various means (psychological pressure, physical violence, use of weapons and explosives), in conditions of specially given publicity and intentionally created fear in society.
More videos available soon at ISFP Prosperes Project YouTube channel

Read More »
Anti-terrorist protection of places of worship by Artur Sybicki in TERRORISM- studies, analyses, prevention
A new publication devoted to the problems of improving security in places where participants of religious cult gather has been recently published in the journal "TERRORISM- studies, analyses, prevention". " The intention of the author of this article is to present solutions in this field, which are being prepared by the European
Commission, and to obtain an answer to the question, to what extent Polish religious facilities are prepared for dangerous incidents, especially those of a terrorist nature". This paper indicates that the ProSPeReS project (Protection System for large gatherings of people in Religious Sites) is currently the only such project on a European scale implemented in the territory of the Republic of Poland. As the author of the article points out, the project aims to develop effective system solutions that will contribute to a significant improvement of the security system in places of religious worship – which, being the so-called soft targets, are particularly vulnerable to terrorist attacks. The aim of activities undertaken by members of an international consortium (with the leading role of the University of Lodz), among whom are representatives of doctrine and services guarding security and public order from 6 European Union countries, is to improve the system of anti-terrorist protection of places of worship by developing effective systems of terrorist security, counteracting possible terrorist threats and responding to them quickly. The work undertaken under the program also focuses on unconventional threats associated with the threat of terrorists using CBRN (chemical, biological, radiacal, and biological threats). Cooperation between European researchers, representatives of local authorities and experts in the field of security of public places is to develop a system of profiled training dedicated to operators of religious facilities, as well as to issue brochures and instructional materials on best practices in the field of anti-terrorist security. Such actions are to serve to improve the awareness of threats, among others, by conducting a public campaign with the widest possible impact.
The article in Polish and English available at:  
https://abw.gov.pl/ftp/foto/Wydawnictwo/terroryzm/TERRORYZM_Nr_1_-_04_04_2022.pdf